FREE 3 Self-Love Strategies Video!
Successful relationships in life with all people and things are manifested from our core love of ourselves.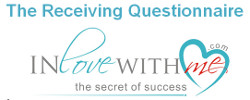 Receiving is a huge part of deeply loving ourselves. We must be able to receive in order to mainfest it in our lives. Special offers to follow, including a free 30 minute coaching session on receiving.
Self Help & Self Love Books
Personal Development & Meditations
InloveWithMe.com offers Life Coaching, Personal Development, Meditations & Self Help Books focusing on the areas of self­-love and relationships. Learning about Receiving and Meditations are critical steps on your path to self love. In Love With Me walks you through these step s coaching you on a self help and personal development path to total self love and success!
Order Today!
Be in love with your life…every minute of it
I once leaned a great strategy: to live life moment by moment by moment. If we are present, we remember to love and cherish ourselves even in our most challenging moments.
Blog
Here you have it, me facing one of my biggest fears! Face Your Fears Challenge!! When I began to write my self-love book, over 11 years ago, I challenged my readers to face their biggest fears. One of mine was skydiving. So I did it! I never thought I would ever jump out of a […]