InLoveWithMe.com is Proud to Present:
Manifesting Abundance 4 Week Coaching Audio Class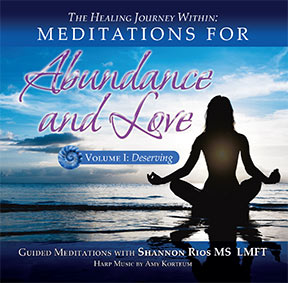 In this healing and love-filled audio coaching and meditation session, Shannon will personally guide you through all of her meditations on Volume I: Deserving of her Meditation CD The Healing Journey Within Meditations for Abundance and Love.  What is crucial about this audio class is that Shannon, an internationally known life coach, will coach YOU to bring into YOUR life all you are seeking to manifest.
These meditations have been said to be "heavenly" "and "one of the most nurturing things I have ever experienced".  A highly regarded spiritual teacher indicated that these meditations get you into a deep state of transformation very quickly.
Experience them directly with the author of the meditations, Shannon Rios. Receive the benefit of her personal coaching via email and in the audio coaching class.
In this program you will have four weeks of audio and email coaching with Shannon Rios, MS LMFT, international life and leadership coach.  In each audio class and via email, she will provide coaching each week along with her meditations.  You will have life actions and if you complete these each week, your life will certainly shift.  If after 5 weeks, you do not feel any shift in your life, we will refund your money 100%.  We believe in our programs because we believe in ourselves and we believe in you.  We know the power of this program and our only goal is the transformation of your life in any way that you intend.
Join us in this amazing four week journey to transform your life.  $49 is the best investment you may ever make in your life.  You deserve it.
Have you ever thought coaching is too expensive for you? Shannon wants to ensure everyone has access to coaching in this lifetime as coaching has changed her life. The value of this coaching is TEN TIMES what this audio class costs! Experience coaching in your life! It will never be the same!
Benefits:
Relaxation
Move your life forward through coaching
Healing Time for You and Your Body
Heart Opening
Nurturing and Loving You!
Manifesting Fundamentals
Setting goals and shifting your life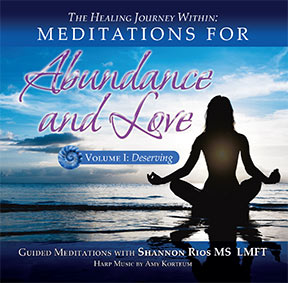 During each class you will experience a new meditation, be guided through questions specific to the meditation and its transformation on your life. There will be time for journaling and reflection during the hour after the guided meditation. Give yourself this loving gift.
Experience the deep healing, love and abundance that you will receive as you transform yourself with a meditation. Set your intentions, become present with these transformative meditations and experience the deep profound healing and love. Know that you can do, be or have anything in the world. This session will assist you in bringing all you desire into your life. Experience the amazing effect and value of coaching. You will never regret it! You are paying a mere $12.50 per hour of direct coaching and meditation
Full Price = $199
Special Discounted Rate = $49
To Manifest Your Life, this is the best deal you will receive!