As I recently was working with a  leader who had just taken a new role in the organization, a very high level role, we discussed all of his "spokes".
Spokes are the many aspects of your leadership in your life and or work.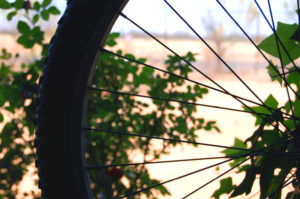 What are the important areas that you want to focus on?  The vision, the people, the process, the change, the product, leadership style, recognition?  This leader needed to communicate his big vision to his team .  He needed to really become clear on the spokes that make his wheel go around.  I asked him to list everything  (all important areas) and then fill in on his sheet (in a big circle) all the aspects that he wanted to communicate to his team about each of these areas.   I asked him to post them in his office when he was complete.
For some of us, getting visual is a really big key in helping us carry out our goals.  When it is nebulous in our minds, it can be hard to execute and communicate to others.  Especially for new leaders, this is a very crucial activity to ensure they are driving the vision of their team.
I encourage you to decide what are the spokes of your wheel in your personal life or your business life.  Then assess what you want to accomplish in each area.  Then communicate that to your team, your leader or your family.  You could also do this as a team or a family exercise.
Happy biking!!
http://inlovewithme.com/wp-content/uploads/2017/03/spokesofleadership.jpg
1000
1504
Shannon Rios
http://inlovewithme.com/wp-content/uploads/2017/02/logo.png
Shannon Rios
2013-10-18 15:29:11
2017-03-29 04:53:29
Spokes of Leadership