Sometimes when relationships end, it can be difficult to move forward with our lives. We may choose to stay stuck in the pain versus push through it to move forward with our lives.
Ask yourself the following questions:
1. Do I still feel angry with my child's other parent?
2. Do I still feel very sad, like I can't move on because I am still upset?
3. Do I still blame my child's other parent for my pain and hurt?
If you answered yes to any of the above, you may be choosing, consciously or unconsciously, to stay stuck. You do have to move through the stages of grief, and there is no fixed time limit for that to occur. This place of being stopped can sometimes feel safer and easier than taking the steps to move forward. It may be unclear to you what steps you need to take. The truth is that if you are choosing to stay stuck, you are choosing to not move on from this relationship. You could also feel that you are punishing your child's other parent. However, you are truly punishing yourself and your child by not moving forward. While it may be true that your co-parent hurt you or wronged you in some way, the truth is that you were 50% of that relationship. You now have a choice. You can choose to move on to create a healthy environment for you and your child or you can stay stuck in a place of anger and pain over a relationship that no longer exists. You can be the victim, but know that victims are not healthy parents.
I am not minimizing how challenging this can seem, I just want you to understand that you have a choice. The good news is that I completely believe that this experience you have endured can assist you in creating your best life. The catch is that you must view this experience as an opportunity for growth and healing.
Am I telling you this process will be easy? No. Am I telling you it is possible to move forward successfully? Yes. I ask you to do this for yourself and for your child. You both deserve it. You are thinking about your child and you want to be the best parent for your child. You deserve the most amazing life possible. If you use this experience as an opportunity to heal, you will be able to better love yourself and love your child. You will also be able to be a better partner should you decide to pursue that in the future. So, I ask you to just be open to what may show up for you.
One thing I have learned is that in order to be the best partner and parent possible, I must choose to heal my own wounds and hurts. Know that you are responsible for your own happiness that your happiness depends solely on you. You alone have the power to create your happiness. I believe it is completely common for us to look to someone else to help us heal and feel loved. We usually play this out in the form of our romantic relationships. The deeper the pain we felt as children, the deeper our wounds are to heal through relationships.
The most important relationship of all is our relationship with our self. No one else can ever make us feel happy on a deep level; we must do that for ourselves. As Michael Oddenino says:  "A person can only love someone to the extent that they love themselves."
Something has become fully clear to me through my own journey working to understand relationships and our role in the success or failure of relationships. We must be aware and reflect on ourselves and our reactions during the relationship and at the end of any relationship. If we do this, we will learn and grow and be able to create better future relationships. Being able to create and sustain healthy relationships is important for us. It also provides a healthy model for our children so they have a better chance of creating good relationships in their lives.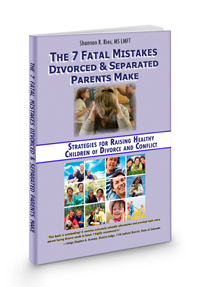 Shannon R Rios MS is a successful Life Coach and Licensed Marriage and Family Therapist.  She coaches parents as a life coach through her life coaching business www.inlovewithme.com so that parents can move forward and create healthy lives and relationships with themselves, their children and others.   She is also the founder of www.healthychildrenofdivorce.com.
If you enjoyed this article, her best selling book on parenting after divorce and healing after divorce is The 7 Fatal Mistakes Divorced and Separated Parents Make: Strategies for Raising Healthy Children of Divorce and Conflict and can be found here: http://inlovewithme.com/books
http://inlovewithme.com/wp-content/uploads/2013/01/7FatalMistakes_eBook_Web3d-smallrev201x287.jpg
287
201
Shannon Rios
http://inlovewithme.com/wp-content/uploads/2017/02/logo.png
Shannon Rios
2013-10-24 18:53:04
2017-03-29 04:35:10
Choosing To Heal Ourselves