A relationship is something that is 50% our responsibility. As a child, my parents always tried to blame the other person. They always tried to make the other parent the bad guy and as a child, this was really confusing to me. After years of trying to figure out which of them was truly at blame, I finally realized "it was 50/50." That gave them both equal responsibility for all the chaos. This realization as a young adult was probably one of my most important. It gave me a lot of freedom. Now I did not have to waste anymore energy trying to figure out who was right/wrong or good/bad. What the heck was the point anyway?
What good does it truly do anyone? I believe that subscribing to the 50/50 philosophy in relationships provides freedom. If you believe this, no one gets to be a victim. I truly believe there are no long-term victims.
We are only victims of our choice not to be responsible for our lives. Even in the case of infidelity, there were still two people in the relationship. There may have even been some warning signs. In my aunt's case, she had asked her husband numerous times to attend counseling and he would not. She then had an affair. Was the end of the relationship both of their faults? I believe it was. They both played a role in the demise an affair is a symptom, not a cause and encourage parents not to blame the divorce on the affair. I want to be clear, I am not saying that affairs are OK, but usually, if you look deeply, both parties had some role in not nurturing the relationship in healthy ways.
Foster Cline, at a recent presentation, discussed that some marriages survive affairs. I believe that many conditions have to be right for this to happen but that it would take both parties being responsible for choosing this relationship and choosing to heal together to move beyond an affair. The bottom line on all of this is that you chose the other person you were in a relationship with for some reason. It is time now to choose to be responsible for your half of the successes and failures. It does not mean you are a failure, just that the relationship between the two of you was not successful on some level.
Relationships take work on the part of both people. Taking responsibility is a road to freedom. It frees us from victimhood, which can keep us seriously stuck. If you are stuck, look at why you may be choosing to stay stuck. If you are still not co-parenting well after years of separation and/or divorce, please take a look at yourself and ask why you are doing this. Living in the past is not the way to live. The path to freedom is to move into the future.
Your choosing to stay stuck in this anger and pain can be so detrimental to your children. Your child will do as well as you do. When you are upset, it causes stress for your child. When you are stuck in your anger and sadness, you are not available for your child. Your child needs your love and attention. If they don't get it, they will act out or suffer in some way. If you are exhibiting this type of stuck behavior, your child will be acting out in some way. If they are not acting out now, your child will probably be feeling internal pain that will manifest in some form later in their life.
Remember that if you are still fighting about the children or not getting along, you are choosing to continue the relationship. You have either chosen the divorce or it was chosen for you. Realize that in some way you had a role in the choice. You do not have to blame yourself, just take responsibility. Make a choice now to let the anger go and choose a new life for yourself and your child. You deserve this.
Choose to move into the freedom you deserve. From this place you will be able to step onto the road that will lead you to happiness and fulfillment in your life, if that is what you want.
If you don't want it for you, please, I ask you to want it for your children. You will assist them in having a life of happiness and fulfillment. You will then be being the best possible parent for your child of divorce. This is the greatest gift you can give to your child.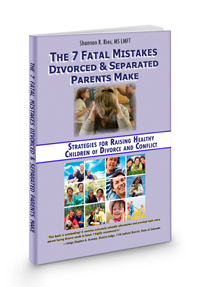 Shannon R Rios MS is a successful Life Coach and Licensed Marriage and Family Therapist. She coaches parents as a life coach through her life coaching business www.inlovewithme.com so that parents can move forward and create healthy lives and relationships with themselves, their children and others. She is also the founder of www.healthychildrenofdivorce.com.
If you enjoyed this article, her best selling book on parenting after divorce and healing after divorce is The 7 Fatal Mistakes Divorced and Separated Parents Make: Strategies for Raising Healthy Children of Divorce and Conflict and can be found here: http://inlovewithme.com/books
http://inlovewithme.com/wp-content/uploads/2013/01/7FatalMistakes_eBook_Web3d-smallrev201x287.jpg
287
201
Shannon Rios
http://inlovewithme.com/wp-content/uploads/2017/02/logo.png
Shannon Rios
2013-10-29 16:38:37
2017-03-29 04:35:10
The Road to Freedom