Look NO Further
Experience the deep healing, love, and abundance that you will receive as you transform yourself with meditations from Shannon Rios' highly-acclaimed guided meditation CDs, The Healing Journey Within: Meditations for Abundance and Love: Volume I Deserving and Volume II: Manifesting.  These best selling meditation CDs were created to assist you in creating the foundation for the most amazing life possible in this lifetime. The meditations on these CDs will assist you in healing in any way that is necessary for you at this point in your journey.
Wherever you are in your life, these CDs will assist you in providing insight at the very moment you need it – right now.
BUY VOLUME I NOW – INSTANT DOWNLOAD – $8.99
BUY VOLUME II NOW – INSTANT DOWNLOAD – $8.99
When you are complete , you will know at a deep level that you are deserving and worthy of love and abundance.
Award winning and best-selling author, coach, yoga teacher, and licensed therapist,
Shannon R. Rios MS LMFT guides you on a relaxing journey of healing and love-filled guided meditations

Do You Want to Look Back at the End of Your Life and
Know You Have Lived a Love-Filled Life?
These best-selling meditations teach you the steps to ensure self-love.
These CDs came to Shannon when she most needed self-love in her own life.
Her life has profoundly shifted since she wrote these CDs.
The best part is all you have to do is listen, each CD is only one hour long.
Take time to take care of yourself and give yourself this gift.

The need for deeper peace that brought you here, right now,
can quite literally be experienced by you within the next hour.
Sit back, relax, breathe and listen……
The First Step to Creating Our Amazing Life is To Envision It…..
My CDs will teach you how…..effortlessly…easily….lovingly and peacefully
Meditations For Abundance and Love Volumes I and II allow you time to do just that.
Take time for you to nurture yourself and visually create what it is you want to have more of in this lifetime.

Profound Awareness, Healing and Health Will Be Revealed
My Meditations for Love and Abundance will allow you to step into your true self by allowing you to release the fears and self-doubts that may reside within you and reveal a completely new you.
This space I present you is a safe, loving and compassionate space that allows you to joyfully move forward in your life with more confidence and love. I help you understand and know, at a deep level, that you are deserving of love, both from others and yourself. At the same time, I teach you that with love comes abundance, and from there…
Anything truly is possible for your life!
Happiness is Priceless……
There is no price that can be put on happiness nor should my guided meditations be exclusive in accessibility.
For that reason, I have made both of my downloadable CDs,
The Healing Journey Within: Meditations for Abundance and Love Volumes I and II only $8.99 each.
That's two full hours of seven guided meditations that can immediately transform your life
and release a happiness you've never known.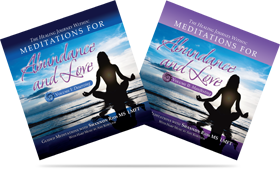 BUY VOLUME I NOW – INSTANT DOWNLOAD – $8.99
BUY VOLUME II NOW – INSTANT DOWNLOAD – $8.99
Happiness is yours if you recognize you deserve it and know how to manifest it in your own life.
Becoming your best self means that you can now allow yourself to take the steps necessary to achieve your higher potential.
Give Yourself Peace – With Absolutely No Risk
I am so confident that this CD produces results that you can try Meditations For Love and Abundance risk-free.
If you aren't completely satisfied with the benefits you receive, all you have to do is simply email
Shannon@lifethreads.net and I will provide you a full refund.
You have peace, love and self-discovery to gain. You have absolutely nothing to lose!
BUY VOLUME I NOW – INSTANT DOWNLOAD – $8.99

BUY VOLUME II NOW – INSTANT DOWNLOAD – $8.99
For further information on Shannon's self-love programs, life coaching and books, please visit: www.inlovewithme.com.

© 2014 Inlovewithme.com All Rights Reserved